Medtronic
---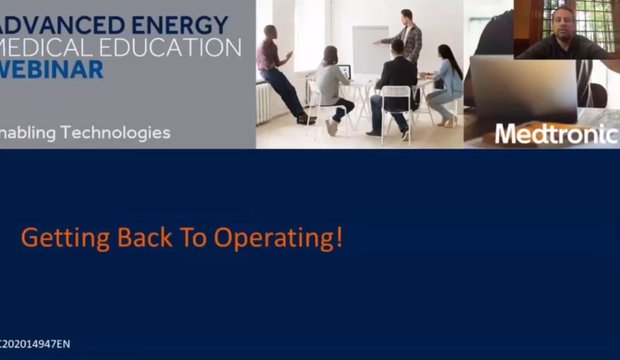 Getting Back to Operating: Economics of COVID-19 on Elective Surgery and Safe Return to the OR
April 24, 2020
---
This video is a recording of a webinar called "Getting Back to Operating!" presented on 04-23-2020. Charles DeCook, MD. moderates a panel discussion with Ryan Nunley, MD. and Mark Hamilton, MD. on returning to the operating room after quarantine, the economics of COVID-19 and what the future could look like post-pandemic.
Ventilator Training Alliance
Medtronic and several of the world's other ventilator manufacturers have formed a Ventilator Training Alliance (VTA) and partnered with Allego to create a mobile app that frontline medical providers can use to access a centralized repository of ventilator training resources.
Visit the VTA app demo to learn more or check the joint press release from Medtronic and Allego, the technology platform that built and hosts the app.
Links to download the app from the Apple App Store or Google Play Store.