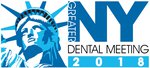 16 others would like to attend.

I need an invite
Friday, November 29, 2019 9 AM - Wednesday, December 4, 2019 5:30 PM America/New_York
Add to Calendar
Jacob K. Javits Convention Center, 11th Ave B/W 34th & 39th Street, New York, United States
Event info
REGISTER HERE!
We invite you to participate in one of the largest Dental Congresses in the world. At our 2018 Meeting, we hosted over 52,000 health care professionals at the Jacob K. Javits Convention Center featuring over 1,600 Technical Exhibits which demonstrated the newest technology for the dental profession. We are the only major Dental Meeting with NO PRE-REGISTRATION FEE
The Greater New York Dental Meeting has again planned an unparalleled educational program for 2019, featuring some of the most highly regarded educators in the field of Dentistry. There is a choice of full-day seminars, half-day seminars, essays, hands-on workshops, glass-enclosed workshops on the exhibit floor, and a Live Patient Demonstration Area that is sure to fascinate even the most discriminating dentist and staff.
For 2019, The Greater New York Dental Meeting is proud to offer a greatly expanded World Implant Expo, the Fourth Annual Global Orthodontic Conference, 3D Printing Conference, Oral Health Symposium, Pediatric Summit and again Dental Laboratory Education. It is important that your staff members take advantage of the many educational opportunities available. This will enable your dental team to excel in delivering the finest dental care in the world. Invite your staff to participate; you will reap the rewards immediately.
EDUCATION

The Greater New York Dental Meeting is an ADA CERP and AGD PACE recognized provider.

The Scientific Sessions are divided into Seminars, Hands-on Workshops, Essays, and Scientific Poster Sessions. The Educational Scientific Program starts on Friday and continues unabated before ending on the following Wednesday afternoon. During that interval over 350 programs, featuring hundreds of the world's most respected dental educators, are presented as full and half-day courses. With over 6 HOURS OF FREE CE DAILY the education program at the Greater New York Dental Meeting is an experience not to be missed!
Course Syllabus
Click HERE to view the syllabus
---