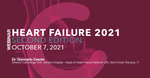 17 others would like to attend.

Register Now
Thursday, October 7, 2021 3 PM - 5:15 PM America/New_York
Add to Calendar
Event info
Heart failure is a clinical condition characterized by a progressive inadequacy of the heart to introduce into the systemic circulation the amount of blood necessary to guarantee the functions of the metabolically active tissues.
Heart failure (HF) is a growing public health problem. 1 in 5 people are expected to develop heart failure during their lifetime, with approximately 63 million affected worldwide.
Basically, all heart diseases can predispose to the development and contribute to the progression of heart failure. The growing burden of HF on health care is mainly due to the aging of the population, as evidenced by the predominance of heart failure as a cause of hospitalization in individuals over the age of 65.
The event aims to take stock of the state of the art of heart failure with the support of international experts, also in the light of new clinical evidence recently published.
For more information, please visit the official website.
Faculty
Course Syllabus
Click HERE to view the syllabus
---