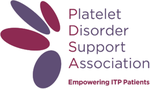 1 other would like to attend.

Register Now
Friday, July 29, 2022 3:30 PM - Sunday, July 31, 2022 1 PM America/Los_Angeles
Add to Calendar
1900 5th Avenue, Seattle, WA 98101
Event info
OVERVIEW
PDSA is pleased to announce that our 22nd annual ITP Conference will take place July 29-31, at the Westin Seattle. We are thrilled to finally be able to bring our ITP community together in person and host this special annual meeting in Seattle, Washington, the magnificent summertime destination repeatedly requested by our patient population!
Three years in the making, the 2022 conference returns this premiere patient event to its original in-person format – offering ITP patients, caregivers, clinicians, and industry partners the much-anticipated opportunity to, once again, gather as a community, to reconnect with and learn from one another, and to reap the natural benefits of this shared experience.
Though we cannot replicate the experience of attending the conference in person, PDSA understands the importance of educating and supporting those who cannot attend. Therefore, we will share informational highlights with our members in our quarterly newsletter, The Platelet News, and through a virtual component of select recorded sessions to be released in September for ITP Awareness Month.
For more information please visit the official event page.
---