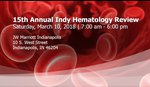 22 others would like to attend.

I need an invite
Saturday, August 15, 2020 7 AM - 8:30 PM America/Indiana/Indianapolis
Add to Calendar
The Westin Indianapolis, 241 W. Washington St, Indianapolis, IN
Event info

Click HERE to register.


Join us in Indianapolis for the presentations by the nation's top experts in hematology and hematology malignancies. Participants will have the opportunity to interact with these thought leaders in several panel discussions.
This annual hematology review is one of the most comprehensive, educational hematology conferences in the country. Our exceptional faculty will provide a concise and practical summary of the American Society of Hematology annual meeting, presenting the most current hematology research and clinical practice.
LEARNING OBJECTIVES
Discuss new emerging hematology therapies in general and for chronic Myeloid Leukemia, acute Promyelocytic, and Myeloproliferative neoplasms.
Evaluate molecular diagnosis, targeted therapies, and resistance mechanisms of Waldenström's Macroglobulinemia to assist in disease recognition.
Discuss the advancement of immune check point inhibitors within hematologic malignancies and updated treatment paradigms presented at the American Society of Hematology meeting in Orlando, FL in December 2019.
Recommend new regimens for Hematopoietic Stem Cell transplantation and identification of transplant candidates.
Review the advancement in hematology research and treatment of diseases of coagulopathy, compliment and cytopenia.
Review current and emerging treatment regimens in lymphomas.
Review and update advances in the treatment of disorders of compliment and aplastic anemia.
Present challenging clinical cases and discuss management strategies of hematologic malignancies and disorders with the application of current and emerging medical literature.
ACCREDITATION
This live activity has been planned and implemented in accordance with the accreditation requirements and policies of the Accreditation Council for Continuing Medical Education (ACCME) through the joint providership of Purdue University College of Pharmacy and Indy Hematology Education, Inc. Purdue University is accredited by the ACCME to provide continuing medical education for physicians.
Successful completion of this CME activity, which includes participation in the evaluation component, enables the participant to earn up to 8.75 Medical Knowledge MOC points in the American Board of Internal Medicine's (ABIM) Maintenance of Certification (MOC) program. It is the CME activity provider's responsibility to submit participant completion information to ACCME for the purpose of granting ABIM MOC credit.
Course Syllabus
Click HERE to view the syllabus
---