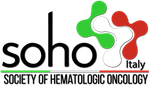 10 others would like to attend.

Register Now
Tuesday, October 3, 2023 8 AM - Friday, October 6, 2023 12 PM Europe/Amsterdam
Add to Calendar
Via Giorgio Zoega, 59, 00164 Roma RM, Italy
Event info
The SOHO Italian Conference (Society of Hematologic Oncology), is bringing together leading SOHO, international and Italian researchers in Leukemias, Lymphomas, Multiple Myeloma, MPNs, MDSs, and rare diseases.The Scientific Board is composed by: C. Cerchione, N. Daver, A. De La Fuente, C. DiNardo, A. Ferrajoli, G. Garcia-Manero, E. Jabbour, H. Kantarjian, H. Lee, T. Kadia, M. Konopleva, G. Martinelli, G. Musuraca, A. Ravandi, G. Saglio.
The conference will be held on 3-4-5-6 October 2023 in Rome at A.ROMA Lifestyle Hotel in hybrid mode. It will have CME and EBAH credits for Physicians, Biologists, Biomedical Laboratory Technicians, Pharmacists, and Nurses.
A focal point will be on the Oral communications and poster session with the abstract submission to encourage the young hematologists the study and research. The aim of SOHO ITALY is the integration of the clinical-scientific activities between Italian Hematologists and the MD ANDERSON CANCER CENTER and international experts to improve the clinical-therapeutic approach to patients with hematologic malignancies
For more information please visit the official event page.
ABSTRACT LINK: https://soho.abstracts.it/
ROOM RESERVATION LINK: https://bookings.travelclick.com/98320?groupID=3942720#/guestsandrooms
Download the SOHO ITALY app on your app store.
Create an account and then insert the PIN sohoitaly
Once you are on the homepage, click on REGISTRATION and enjoy the new SOHO ITALY APP!
---