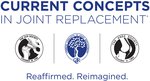 19 others would like to attend.

Register Now
Tuesday, December 8, 2020 6:30 PM - Saturday, December 12, 2020 12 PM US/Eastern
Add to Calendar
Event info
REGISTER HERE!
Fellows in training registration is $100!
CCJR® WINTER 2020 WILL BE PRESENTED VIRTUALLY
View the program here!
CCJR® EXECUTIVE COMMITTEE:
Daniel Berry
Adolph V. Lombardi, Jr.
William J Maloney
CCJR® Founder and Emeritus Director:
A. Seth Greenwald
COURSE DESCRIPTION
The course is open to practicing orthopaedic surgeons, residents and fellows, allied health professionals, and members of the orthopaedic and allied health industries.
The course will focus on primary and revision hip and knee replacement and related surgical approaches, new materials, designs, and technologies; it will also address problems of articulation choice, implant fixation, bone deficiency, instability, trauma, and post-operative complications.
Innovative formats will delve into the triad of surgical technique, implant design, and patient factors that determine clinical success and arthroplasty longevity in adult reconstruction.
Contemporary internationally recognized thought leaders will probe the boundaries of these problems, offer solutions, and teach state-of-the-art techniques for arthroplasty problems.
Teaching formats will include: mini-symposia, cutting-edge technique videos, debates on controversial topic, case challenges, and live surgery demonstrations. The course will provide unparalleled learning and networking opportunities for orthopaedic surgeons and allied professionals involved in adult joint reconstruction.
Special programming also will be targeted for residents and fellows.
LEARNING OBJECTIVES
As a result of attending this course, participants will:
Appreciate current trends in the application of new technologies including robotics in primary arthroplasty, outpatient surgery, new technologies and techniques that improve outcomes of revision surgery, avoidance and management of complications, and optimization of perioperative management.
Appraise evolving surgical techniques and implant technologies through didactic and interactive live presentation as well as understand early and long-term clinical outcomes.
Discuss diagnostic approaches to assess: peri-prosthetic infection, post-operative function limitations, pain, and peri-prosthetic fractures.
Apply current solution options to revision hip and knee arthroplasty challenges and understand the contributory roles of surgical technique, component design, and patient factors including bone loss, soft tissue deficiency, and infection.
ACCREDITATION STATEMENT
Join us for 5 days of focused education and estimated 14 AMA PRA Category 1 Credits™ presented by faculty of 40 globally recognized thought leaders in adult reconstruction.
For further information visit https://www.ccjr.com/winter-2020/
Course Syllabus
Click HERE to view the syllabus
---