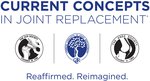 41 others would like to attend.

Register Now
Wednesday, May 8, 2019 6:10 PM - Saturday, May 11, 2019 5:30 PM EST
Add to Calendar
Hilton Cleveland Downtown 100 Lakeside Ave, East Cleveland, Ohio 44114
Event info
COURSE DESCRIPTION
This CME Program is open to orthopaedic surgeons, residents, nurses, and members of the orthopaedic and allied health industries.
• This meeting will focus on both primary and revision outcomes, surgical approaches, current implant designs and materials including the clinical manifestations of metal-on-metal articulations and the use of tapers, as well as address problems of fixation, bone deficiency, instability, trauma, and infection for hip and knee replacement.
• Topics delve into a triad of design, patient factors, and technical proficiency responsible for achieving clinical longevity as well as the associated economics of hip and knee reconstructive procedures.
• An assemblage of contemporary thought leaders will probe the boundaries of these problems and offer solutions for joint pathologies where arthroplasty or its alternatives are indicated.
• Plenary commentary, didactic clinical reports, technique videos, debate, case challenges, and interactive sessions define the formats of presentation, which provide an optimal learning opportunity for orthopaedic surgeons and other allied professionals involved in joint reconstruction.
LEARNING OBJECTIVES
As a result of attending this CME Program, the participant will be able to:
• Appraise evolving surgical techniques and implant technologies through didactic and interactive live presentation as well as evaluate early and long- term clinical outcomes.
• Identify problems and concerns relevant to hip and knee arthroplasty including polyethylene wear, taper corrosion, short- and long-term tissue response, inter-component failure, and peri-prosthetic fracture.
• Discuss optimal clinical application of current and evolving fixation techniques in primary and revision procedures including cement, hydroxyapatite, porous coating, press fit, impaction grafting, and evolving porous metal technologies.
• Appreciate current solution options for hip and knee arthroplasty failure where revision is an endpoint and understand the contributory roles of bone loss, soft tissue deficiency, and infection.
For more information and to register: https://www.ccjr.com/spring/
Faculty
Course Syllabus
Click HERE to view the syllabus
---