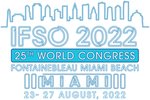 1 other would like to attend.

Register Now
Tuesday, August 23, 2022 8:30 AM - Saturday, August 27, 2022 12:30 PM America/New_York
Add to Calendar
Fontainebleau Miami Beach
Event info
Click HERE to register
XXV World Congress International Federation for the Surgery of Obesity and Metabolic Disorders (IFSO) 2022 will be held on August 23rd through the 27th.
This IFSO Congress will be the most attended worldwide bariatric meeting, with the coming together of surgeons, multidisciplinary support staff, researchers, physicians, and other healthcare professionals involved with the mission of IFSO: unite and educate against adiposity and metabolic disorders.

In addition, this congress will have the participation of the IFSO Latin American Chapter and the Columbian Obesity Surgical Society (Asociación Colombiana de Obesidad y Cirugía Bariátrica ACOCIB).

The scientific program will be comprehensive and will focus on updating, investigating and understanding the widest array of topics in the field of the growing adiposity based chronic diseases, through postgraduate courses; symposia; expert talks; discussion panels; live surgeries; hands-on skill labs; video sessions; paper and poster presentations; emerging, endoscopic and new technology sessions. The aim of the Congress is to educate on all the bariatric and metabolic surgery topics and to unite across country borders health care professionals from different specialties, in their fight against the adiposity epidemic.
Finally, it will also host the 1st World Consensus in Bariclip.
The venue of the congress will be in the iconic Fontainebleau Miami Beach, situated on oceanfront Collins Ave in the heart of Millionaire's Row. This 22-acre oceanfront hotel is a revered Miami Beach landmark for more than half a century, with American architect Morris Lapidus' emblematic curvilinear building featuring state-of-the-art conference facility surrounded by award-winning restaurants, nightlife venues, a two-story spa, a virtually endless poolscape and miles of pristine beach.

This World Congress will be a combination of International, Latin American, Columbian, and of course American Miami Beach style hospitality, which will surely offer you a multicultural and pleasant experience. Without a doubt, our IFSO Congress Team will provide the help, attention, and direction to make your attendance to the congress a fulfilling and rewarding experience.
---